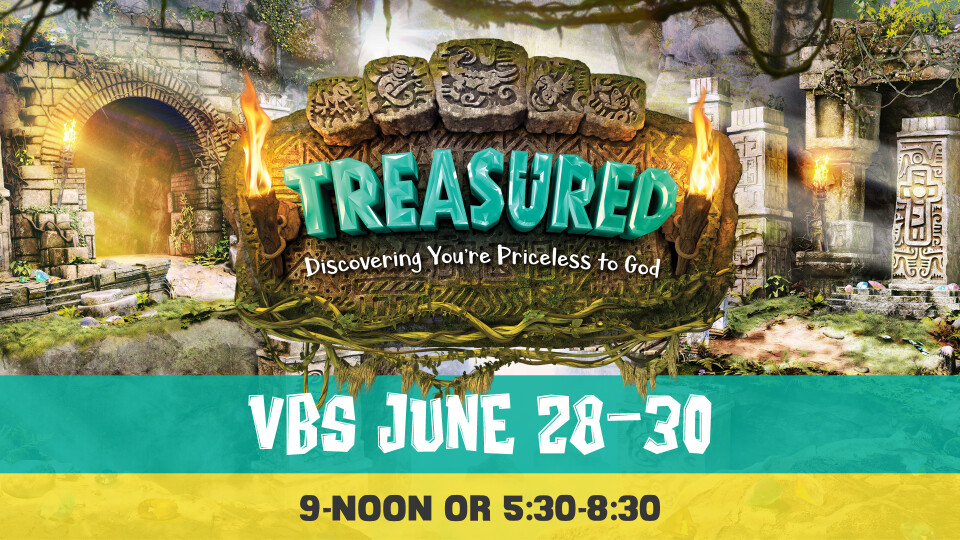 Monday, June 28, 2021, 9:00 AM - Wednesday, June 30, 2021, 8:30 PM
Put faith on the map!
Embark on an epic quest through hidden ruins, ancient caves, and dense jungles. Make plans to join us in-person this summer at Treasured VBS as your kids will dig into action packed, faith filled adventures. Our Grace Kidz team will help them discover God's greatest treasure isn't diamonds, gems, or gold…it is THEM!
June 28-30
9am-12pm or 5:30pm-8:30pm
In an effort to limit crowd size, we are giving you two different options this year! Choose the VBS time that works best for your family. Please note spaces are limited at both.
Choose from morning VBS 9am-12pm or evening VBS 5:30pm-8:30pm
Both VBS experiences will be the same.
Registration is required.
$10 fee per child covers VBS supplies and activities.
Last day to register is Sunday June 20.
VBS is for kids ages 3 and fully potty trained - completed 5th grade.
Register Your Kidz
Please select your time slot:
*Preschool slots are full for the morning session, please select evening for Preschool
Volunteer
Want to join in on all the fun? Many volunteers are needed in order to make this event a huge success. Please register to serve at morning or evening or both VBS times! We would love to have you. You will be contacted with serving information as the date draws closer. Note, youth volunteers must have completed 6th grade.
*Please note you will be required to attend one VBS volunteer meeting prior to serving. Mark your calendar for one of the following dates:
Wednesday June 23rd 5:30-6:30 or
Thursday June 24th 5:30-6:30
Volunteers only need to attend one of these meetings, not both.
VBS Work Days
We have a few VBS "Work Days" planned. Activities include painting, assembling, sorting, and building. Dates are Friday, June 11 and Saturday, June 12th from 10am-2pm and work will be done in the Family Center! Please register to help and come dressed for a mess!
Register for Work Days:
VBS Afterparty!
Join us for a very special VBS After Party planned for the whole family on Thursday July 1st at 5:30pm. More After Party info to come!
More Information
For questions, contact Stacy, 239-574-7161