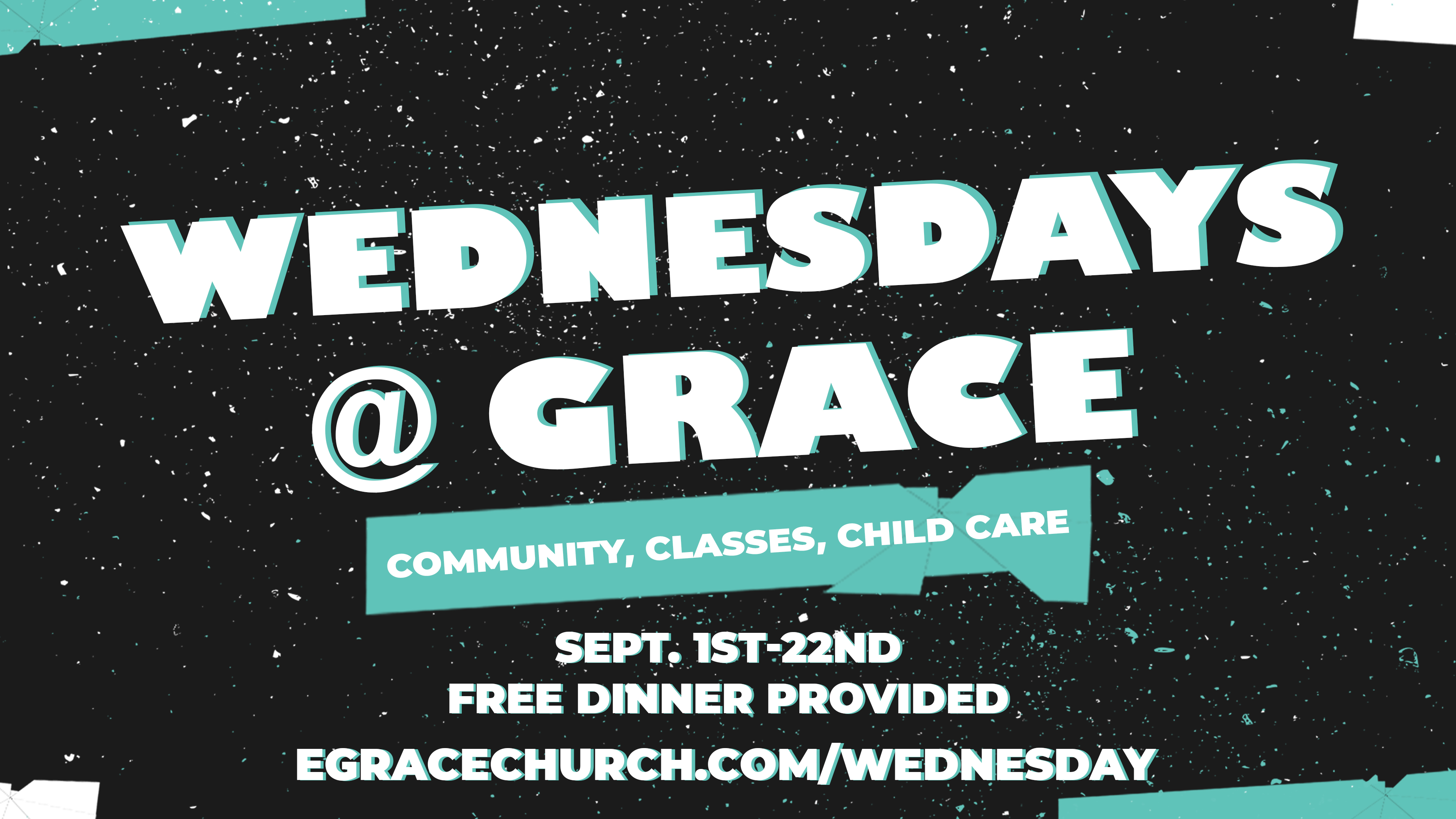 Wednesday's At Grace (Cape Coral Campus)
Need community? Want to grow and learn? Have questions about God and life?
Join us at Grace for four Wednesdays in September. We will eat a free dinner together and enter into interactive learning groups on different topics. You choose which class you'd like to take. These classes are all meant to be practical for our everyday lives. Everyone is welcome! Childcare will be provided.
Schedule
September 1, 8, 15, and 22

Christianity 101
Pastors Jorge Acevedo, Wes Olds, Arlene Jackson, and Taylor Foley will lead us on a four-week journey through the central beliefs and practices of the Christian faith. Each week will focus on exploring a different question:
Who is God?
Who am I?
Who are We?
How Do I Live?
Also, each week we will try out different faith practices together, such as prayer and reading the Bible, with a spirit of experimentation. Have questions? They are welcome! We will have an opportunity for Q&A in each session. Hope to see you there!
Contact Casey Culbreth for more info:
Parenting Class
Join us as we learn how to create healthy family habits through all the phases of childhood.
Contact Taylor Foley for more info:
Recovery Class
Recovery For Everyone. Even People Not In Recovery
Do you know or love someone who needs recovery? Have you wondered for yourself what recovery might be like? It's not scary, come find out. We will go through the basic four movements of recovery in four weeks:
Our need for God
Knowing ourselves
Reconciling with others
Putting it into practice
Contact Arlene Jackson for more info:
In this class, we'll walk through Pete Scazzero's book, Emotionally Healthy Spirituality, and unpack core biblical principles to guide you into an experience of lasting, beneath-the-surface transformation in your relationship with Christ.
Schedule: 6-7:30pm, Sundays starting September 26
Location: Cape Coral campus, in-person, Family Center
Schedule: 6-7:30pm, Sundays starting September 26
Location: Virtual, on Zoom